CH ARG LAST PASSIONS HUNTER DINASTHY " Didy "


09-04-2000 / 11-07-2012

How can I say to you good bye? How could leave the selfishness aside and let you go?

Your heart was really huge .... Unfortunately in the anatomical sense too ....
I have not met a friend as good as you, each new puppy at home was aware of it,
that's why you received from all of them, their bites and games .... Hear your growling?
Never. I never really.
It was very hard to let you go to rest, But your heart needed to stop.
Now my heart is accelerated because you have entered in and you have met your mom Cleo
and Samy .... Play my girls into my heart….. Play…. And non-stop please!!
I do not know why you liked that I asked you very close your ear: "Are you there titi?"
..... Can I ask you it again? ... I will love you forever!!!!
LAST PASSIONS HUNTER SAMANTHA "Samy"
03/12/1998 - 20/01/2010


Samy..... I was with you when you came to this world and you were part of my
so desired and loved first litter......
I was with you while you grew strong and beautiful, getting ready for a life
at home and in the shows......
We were together in your first exhibition where you were quickly eulogized
by the judges.....
We were together winning rankings and enjoying the life at home....
I saw when you had your puppies and you demonstrated to be by far the best
mother that I have seen up to now!
We live your adulthood together, demonstrating me that everything is
possible if one wants!
You were very much for my, you were always my first one in everything, my
great illusion and my concrete reality!
We were very close when I had to let you fly..... It was necessary..... It
was it....
You grew, lived and left this world as what you were ! Samy..... an
authentic queen! MY BEAUTIFUL QUEEN !!!!
I miss you a lot my love!!
Christian




DINASTY ONE THE FIRST RED " Didi "

Owner: Andrea Cano
"
Thank you Andre for simply being my dear friend
and being with me in every moment of my life …
"
Christian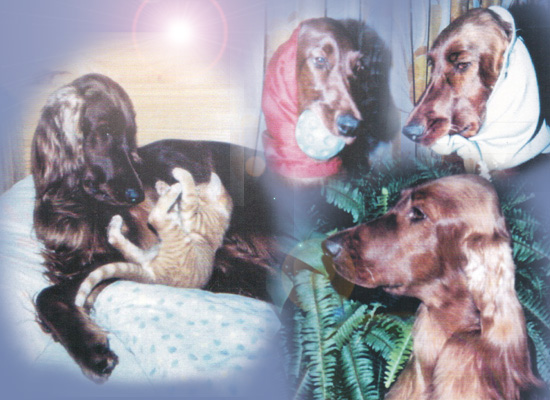 Dinasty... You have always been and always will be one of the greatest loves of my life.
Your immense love and beauty provoked in me the necessary sparkle to fully
dedicate myself with the greatest passion to this breed.
I owe to you my love for the Irish Setters.
Thanks to you, Cleo came to my life, and together, both of you filled my life with happiness.
I cannot pet you now, but deep inside me I can still feel you,
chasing cats and lights in my heart. So long, MY LOVE ! Christian

GR CH ARG CH CHIL CH LAT CH INT
CLEOPATRA DE LA LUNA ROJA " Cleo "

01-22-1994 / 03-08-2004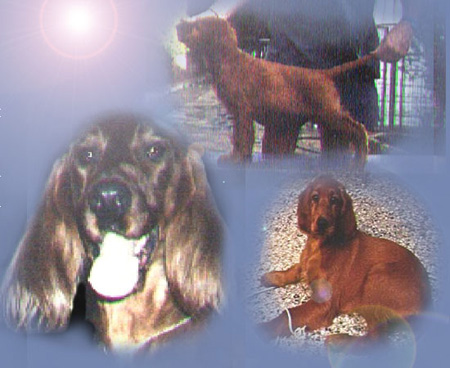 Thank you my life for giving me the ten years of your life, thank you for teaching me
the true meaning of the word " fight", thank you for loving me too much and for letting
me try to do the same with you. It is impossible to illustrate how unconditional our
friendship was, it is impossible to explain what I would have done to keep you here,
but I couldn't be selfish with you, I couldn't.
I think about you and I feel my chest could blow, it hurts, and it gets bigger because
you are there and you wag your tail, keep doing it Cleo, keep doing it !!!
On March 8, 2004, I finally let you fly, fly where ? , to the only possible place specially
prepared for you in my heart, from where nobody could ever take you,
right there where every beat that gives me life begins…
Finally, let me tell you that life never separated us, it just made us one.
Christian